Volunteerism: Creating Community Stakeholders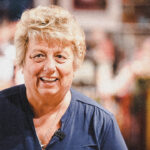 Main Street Programs are volunteer driven organizations. Boards, committees, and events all function by the commitment of volunteers. Emily Zebel with her camera and Virginia Mauk with a list of hard-hitting questions made a recent trip to Easton, PA, where they explored volunteerism and the evolution of community stakeholders in a PA downtown community. We exchanged ideas and learned from Kim Kmetz, Easton Main Street Initiative Manager, JoAnn Durante, one of PDC's Volunteer of the Year Townie recipients, and other Greater Easton Development Corporation staff and community volunteers on their experiences with volunteerism.
Our key take-aways? Communication is key! Making a personal connection and knowing your volunteers helps make asking their support easier and improves recruiting as well. It also helps to connect a volunteer with specific interests with a related task. If a volunteer is focused on impacting their local community, connecting them with a local farmer's market where they get to know their neighbors would be a good fit. If a volunteer wants to connect with a larger community to include visitors from other areas, then a larger event might appeal to them. Finding the right fit for the volunteers seemed to be top on the list of when building a volunteer base. Another valuable tip, once you find the right fit for your volunteers, give them guidance, and let go!
Volunteers expressed "buy in" to their community. The work they do makes their community cleaner, safer and a better place to live. Volunteers take pride in the work they do and share their projects and accomplishments with family and friends. Their sense of pride is contagious. This sense of pride encourages continued participation and new volunteers. Erin, volunteer and Chair of the EMSI Design Committee said it best, "we just feel like we're part of the community – you take ownership when you're a volunteer. We're making things happen!"