November 12 @ 8:30 am

-

3:30 pm

$30.00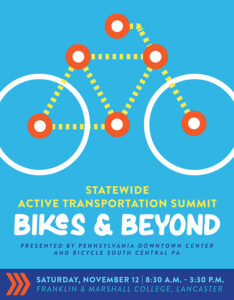 This will be a combination debut and return of the Active Transportation Summit. The event is a collaboration between the Pennsylvania Downtown Center and Bicycle South Central PA.  It will take place on Saturday, November 12, from 8:30 am to 3:30 pm, on the campus of Franklin & Marshall College in Lancaster (with optional walking or biking tour to follow).  It will be familiar to people who have attended past Regional Bike Summits, but the scope will expand to welcome people from around the commonwealth and to include all active modes in the discussion.
This event is suitable for a wide variety of participants, whether people who have formal roles with municipalities or those who are engaged activists and advocates as well as anyone just interested in getting involved in promoting active transportation in their communities.
The cost is $30 (in advance) per registrant, and goes up to $35 for registrations completed after October 31.  Registration includes lunch and snacks.  If the registration is a hardship, please contact the organizers as scholarship funds may be available. Watch for registration information coming soon.
The event enjoys sponsorship from Franklin & Marshall College, QBP, Lancaster Bicycle Club, Piscatello Law, and other businesses.  If you would like to sign on as a sponsor, contact us for information about donation levels and recognitions.
Contacts:             Marilyn Chastek, mchastek2009@gmail.com
Sam Pearson, PDC, sampearson@padowntown.org, 781-366-0726