November 30 @ 9:30 am

-

4:00 pm
Is your downtown Entrepreneur ready?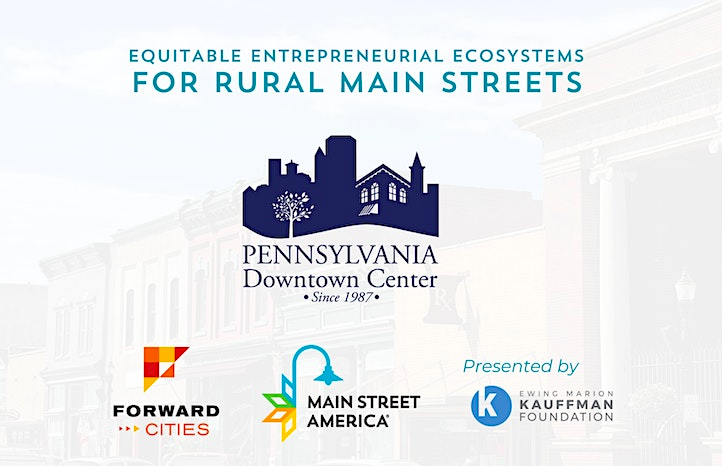 If your community is expanding and you want to make sure you have a strong foundation for growth that includes and creates opportunities for everyone – we'll focus on that, too!
The EEE workshop is a free educational opportunity for any rural community in Pennsylvania. The workshop will focus on Entrepreneurship and Mindset, Equitable Ecosystems, Ecosystem Building Blocks and Support, and Preparing for the Ecosystem Building process. We'll cover several tools and templates for you to better assess your community's entrepreneurial ecosystem, its assets and gaps, the role that your Main Street and partner organizations play, along with targeted next steps to map out and utilize your ecosystem. You'll leave with the tools and understanding of how to put the pieces of your ecosystem together equitably and with entrepreneurs in mind.
We encourage communities to attend in small groups, but know that this isn't a requirement for attendance. We encourage you to build your small groups around these categories, ideally with a community representative from each category:
Place and Home, Talent and Skill Development, Networking and Relationship Development, DEIA, Financial Opportunities/Lending for Entrepreneurs , Education and Training, Culture, and Government/Regulation/Zoning.
Bring a team that represents your community! Note that it is in no way a requirement for you to come in a small group, and we recognize this could be difficult. You are welcome to attend even if you are the only representative from your community.
Pennsylvania is a grantee of the Equitable Ecosystems in Rural Main Streets Program, led by Main Street America, in partnership with Forward Cities, and supported by the Kauffman Foundation.
About Pennsylvania Downtown Center (PDC)
We are a Main Street America® Coordinating Program.
Main Street is a comprehensive, community-based approach to revitalizing downtowns and central business districts, which has been applied across the United States since the early '80s.
The Pennsylvania Downtown Center (PDC) is a Main Street America® Coordinating Program and provides technical assistance, board and committee support and education to designated programs while the Pennsylvania Department of Community and Economic Development (DCED) provides access to funding opportunities and oversight of designated Main Street and Elm Street Programs in Pennsylvania
As a Main Street America® Coordinating Program, the Pennsylvania Downtown Center is part of a powerful, grassroots network consisting of over 40 Coordinating Programs and over 1,200 neighborhoods and communities across the country committed to creating high-quality places and to building stronger communities through preservation-based economic development.
About Main Street America
Main Street America has been helping revitalize older and historic commercial districts for more than 40 years. Today it is a network of more than 1,600 neighborhoods and communities, rural and urban, who share both a commitment to place and to building stronger communities through preservation-based economic development. Main Street America is a subsidiary of the National Trust for Historic Preservation. For more information, visit the Main Street America website.
About Forward Cities
Forward Cities is a national nonprofit with a mission to transform the way communities see, support, and sustain entrepreneurs – through a racial equity lens. The organization leverages thought leadership, custom solutions, and learning networks to grow the capacity of local leaders to build more equitable entrepreneurial ecosystems. For more information, visit the Forward Cities website.