PDC Responds to Governor Shapiro's Budget Address: Main Street Matters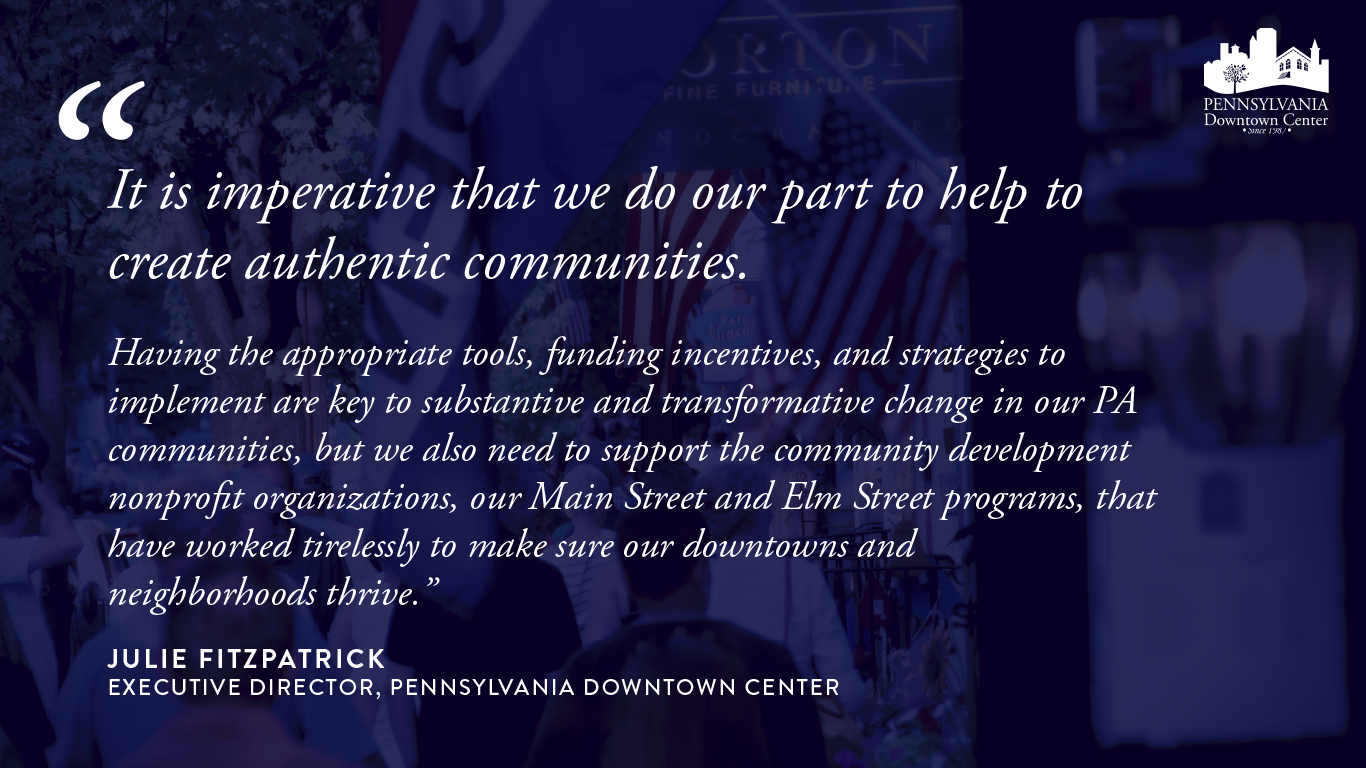 By now, you've probably heard, read, or seen some reference to Governor Shapiro's inaugural Budget Address to the General Assembly delivered on Tuesday. Pennsylvania Downtown Center (PDC) is grateful that the Keystone Communities Program was specifically called out, along with its association to the Main Street program. This mention gives us a new level of opportunity and publicity, and now it's our turn to use this momentum to lead the conversation with our state legislators and our local community leaders.
"On top of that, my budget significantly increases funding for our Main Streets through the Keystone Communities Program. One thing I've always loved about Pennsylvania is that no matter where you are, nearly every place has a Main Street – and those Main Streets Matter. But unfortunately, too many of our Main streets – like so many of those I've walked with so many of you – haven't had the kind of investment they need to help them thrive again. We've seen communities like New Castle get hollowed out – but we've also seen what communities like Phoenixville can become when the Commonwealth invests in their vision."
As Governor Shapiro reiterated, "Main Street Matters". This is a statement that we can all get behind. Our Pennsylvania Main Streets and Elm Streets do matter, and we need to make sure that our voices are heard and that our programs are supported.
Having the appropriate tools, funding incentives, and strategies to implement are key to substantive and transformative change in our PA communities, but we also need to support the community development nonprofit organizations, our Main Street and Elm Street programs, that have worked tirelessly to make sure our downtowns and neighborhoods thrive. Even during the last three years, we have seen the impact in Main Street districts across PA,with 529 net full-time jobs, 574 net part-time jobs, 305 net new businesses over $165 M public/private investment, and a monumental 85,480 volunteer service hours equaling over $2.3 M worth of service time to help support Main Streets as the heart of the community.
It is imperative that we do our part to help to create authentic communities where residents are proud and choose to live, to raise their families, and to retire; to support historic and innovative downtowns of entrepreneurial ecosystems, where businesses are given the tools to start a business that has the power to transform their lives and the lives of future generations. We are looking to support communities that offer a high quality of life for their residents, that are safe places for children and for seniors, offer local recreational opportunities, gathering spaces to celebrate, and welcoming places for all.
PDC will be sharing talking points and resources leading up to our Keystone Communities Main Street/Elm Street Advocacy Day (TBD) for local community programs, board and committee members, business and property owners, residents, and local partners to use in conversations with our state legislators. Our campaign will continue as the $15 M for Keystone with the intent of being able to provide operational assistance and additional implementation and program support to designated Keystone Communities Main Street and Elm Street programs. We cannot do this without your support and the collective voice of our communities – as we can now stand behind, Main Street Matters.
With gratitude and hope,
Julie Fitzpatrick
Executive Director
——–
For the full, written address, click here.
For the recording of the address and the line-by-line budget, as well as a few concise talking points on popular key topics, click here.