2023 WalkWorks Funding Round for Active Transportation Plans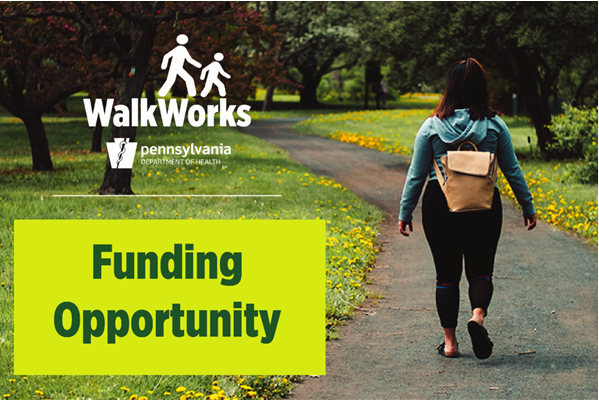 WalkWorks is pleased to announce its seventh round of assistance to advance policy development related to active transportation. Grants will be offered to a limited number of municipalities and other governmental bodies to assist with the development of Active Transportation Plans. You can find the Funding Opportunity Announcement on the WalkWorks page on the state Department of Health website at pawalkworks.com.
Walking, biking, using a wheelchair, and accessing transit are independent, reliable, and resilient transportation modes that are healthy for our minds, bodies, finances, communities, and the environment. No matter the geography of our communities or the typical makeup of our residents, active transportation is important to incorporate into our planning, policies, programming, and projects. It will not look the same in every locale, but it is important to remember that every area has people who do not or cannot drive and we need a transportation system that works for all of us.
Eligible grantees are municipalities, counties, and RPOs/MPOs in Pennsylvania, but people and organizations who are not themselves eligible to apply certainly also have a role to play. Talk to municipal leaders in your community, in communities where you work, or in other parts of the Commonwealth that you are involved about the universal relevance of active transportation and the importance of making progress toward safer streets and mobility options for all!
If your community has already done an Active Transportation Plan, consider sharing this information with leaders in peer and/or neighboring municipalities!
Join us on Thursday, April 6th at noon for an informational webinar reviewing the Funding Opportunity Announcement. Register here.
The application deadline is May 26, but now is the time to line up formal resolutions and letters of support to accompany submissions.